Dr. Michelle Reid, New Superintendent of Fairfax County Public Schools
Listening to students & staff is a major goal
JacksonJournal.News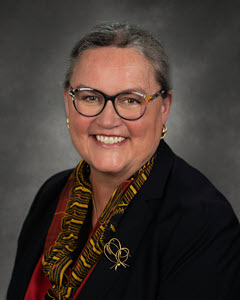 By: Meissa Islam and Sibel Mehmed

Dr. Michelle Reid, the former superintendent of Northshore School District near Seattle, Washington is now our brand new superintendent and it seems she has many qualifications under her belt, including claiming the esteemed National Superintendent of the Year 2021. 
In a comfy conference room among other students of different ages, we had the pleasure of meeting our new superintendent, asking a few questions, and affirming whether or not she was true to her beliefs. We inquired about equity in learning and found what makes her such an asset to our county goes far deeper than her accomplishments.
Coming from a military family, Dr. Reid claims to have developed flexibility from moving around so much as a child, "moving about regularly enables that sort of nimble flexibility that was a supportive trait throughout the pandemic and its accompanying challenges."  We noticed moving around and being born in Germany has also aided her cultural awareness, which is a trait essential to FCPS with its increasingly diverse student population.
We inquired about how Reid planned to support this diversity further. She easily responded her approach would be to analyze every individual school's needs and serve those needs on a case-by-case basis.  She went on to say sometimes money is not the only issue, but also getting the right people in the right places and giving them time to create success.
On top of that, in academic terms, Reid affirms that her "academic strengths fall in STEM with science and mathematics," even though she does have to praise performing arts, both of which are evolving strengths in FCPS. In fact, almost 62% of Fairfax county students are currently partaking in a fine arts elective of some sort.
Vertical integration is another important goal for Reid, "To ensure pathways for the types of courses each student wants in each pyramid."   She wishes to add to apprenticeships, coursework that provides career pathways, and career and technical programs. Based on this, she loves to repeat the fact that 65% of the students are preparing for a career that doesn't yet exist. She continuously praises the arts and says, "it's her life's work." After coming to Fairfax County, her priority was to focus on student voices, and she did so by hosting a student Q&A.
Our impression of Dr. Reid was of an accomplished woman who feels very at home when she is with students.