Cherish by Madonna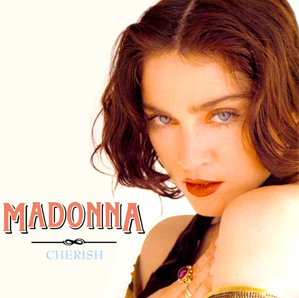 Written by the ever so popular Madonna, "Cherish" is about loving who you want and never leaving. It compares itself to the story of Romeo and Juliet, saying "Romeo and Juliet, they never felt this way I bet." The song paints a picture of everlasting love. She will never let the man she loves wither away.
One of six singles in Madonna's Like a Prayer album, "Cherish" was a hit, peaking at number two on the Billboard Hot 100 chart on October 7, 1989, just about two months after its release. It soon became competition to Janet Jackson's "Miss You Much," which hit the top ten that same week. "Cherish" became Madonna's 16th consecutive top-five single, a record by any artist in Hot 100 chart history (Wikipedia). "Miss You Much," however, in my opinion, is slightly better. I like the earth-shattering beat, the vocals hitting hard in my soul. The songs' messages are a bit similar, Janet's talking about missing the one she loves, and Madonna cherishing that love. Janet's vocals are smoother, Madonna's are, not bad, but more sung in chunks.
The Like a Prayer album has a very repetitive nature of love songs, (not all of them are love songs, but quite a few) however each of them explores different kinds of love from different perspectives. Good love, bad love, in-between love… there's no shortage of views on the subject.
I find "Cherish" to be quite catchy. A lyric from the song that quite sticks with me is "So tired of broken hearts and losing at this game" in the very beginning. It sets a background for the song's story and shows you her emotions on the subject.
In the extended version, linked here (YouTube), you can hear a little bit of that sweet guitar by the end of the song. Plus the song's chorus is bound to get stuck in your head whether you like it or not. Overall, I applaud Madonna for her (and Patrick Leonard's) work on this amazing song, a doo-wop style one at that. Even making an extended version for us to enjoy more.
"Cherish" is a great song to listen to spontaneously to get you in a good mood. I recommend checking it, and the rest of the album, out. I've grown to really like the song and its story, and I hope you do too!