"Stand By Me" by Ben E. King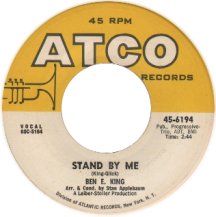 By: Symthasree Koganti, Writer

The song "Stand By Me" is a well-known one, originally sung by Ben E. King's emotional voice, and later having around 400 covers of it by various people. It was recorded in 1961, cementing King's reputation as a solo artist in the music industry after he left his previous group, The Drifters. Although people may not know the name of this song, they are bound to recognize its iconic notes and the croon of "darling, darling, stand by me." It has been played in several places, from weddings to movies to the radio. "Stand By Me" has only increased in popularity over time, becoming famous in the US and the UK. So what exactly keeps this song from the '60s so popular in the present despite its modest start?
Simple. The combination of sounds in the song makes a musical creation which expresses the dedication of romance, touching the hearts of many. With an uncomplicated beat, the background music of the song utilizes guitars, cellos, and a sand-shaking instrument masterfully and sweetly. Although the orchestral section in the middle of the song was predicted to be detrimental to the song once it had been released, it only enhanced it with smooth, dreamy sounds. Whoever has performed this song best among the covers is a controversial matter, but King's voice, on the other hand, can be praised without question, for the soulful way he brought out the lyrics.
Of course, that should have been expected. After all, Ben E. King had written this song for his partner, Betty Nelson, to profess his love for her. The lyrics express a wish for a person to stand by them, going on to state the stability they would provide. Stating that the dark would never frighten them and that even if the sky would "tumble and fall" they would shed nary a tear; all as long as the person was by their side. Lyrically, it expresses the trials that they could surpass as long as their special someone was there. With this song of dedication and love presented, it is no wonder that Nelson and King had gone on to spend five decades of their life united in matrimony.
In the end, the song "Stand By Me", despite opinions, stands as one of the greatest classics in American love songs. This pop song's instrumentals and vocals showcase a passionate display of love, adhering it to many. Without a doubt, it has been overused on Valentine's Day this year, and the same has happened for years before. However, love songs aren't just for Valentine's Day. So feel free to turn up the volume, click the play button on "Stand By Me", and experience this hit for yourself!