Kusarigama–an Antique Japanese Weapon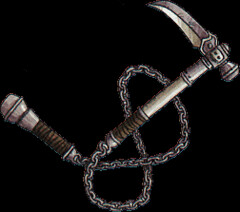 The Kusarigama is a Japanese weapon that was originally used for self-defense for non-samurai's, but eventually expanded to ninjas.
The weapon is composed of a sickle and weight attached by a chain. The weight would be used to trap the enemy by coiling around them or render his/her weapon useless. The sickle would then be used to finish off the enemy.
(Photo used with permission.)
Related Stories:
http://www.ninjaencyclopedia.com/weapon/kusarigama.html