Fat Cat Cat Backpacks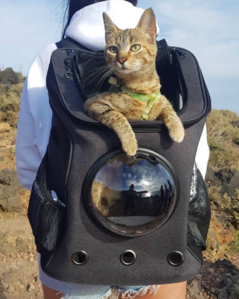 Fat Cat Cat Backpacks are the perfect carriers for your cat! They can hold up to twenty pounds, and are complete with three mesh screens, so your cat can see out. There is also a bubble that can be swapped with a fourth screen, depending on the cat's and owner's preferences.
Do cat backpacks provide a good place for your cat or are there drawbacks? Cat backpacks are not for everyone. Some cats strongly dislike cat carriers that move freely, and prefer the bottom to be balanced at all times. Others don't like plastic screens. The cat may prefer a regular cat carrier to a backpack. Despite these drawbacks, the Fat Cat Cat Backpack is one of few leading cat backpack brands. To learn more visit https://thefluffykitty.com/fat-cat-backpack-review or go to https://www.youtube.com/watch?v=0VXUkX3wAvM to see a video.
This relates to engineering because the mesh screens and structure had to be manufactured in a factory, and the parts had to be assembled. The regular backpack design had to be modified, and the idea, reformed.