Where is Santa Claus?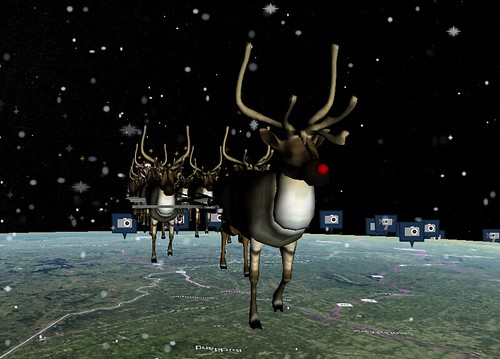 He sees you when you're sleeping, he knows when you're awake. No, it's not your assigned FBI agent, it's Santa! Have you been naughty? Or nice? Around this time of year, kids are extra nice as they await gifts brought yearly by the jolly, bearded stalker. But, thanks to taxpayer money and the governments of the United States and Canada, anyone can now track where Santa goes on Christmas Eve. If you think military defense budget is just to pay for $10,000.00 toilets, well, prepare to be amazed by the North American Aerospace Defense Command or NORAD for short. 
Established in 1956 by the joint US-Canadian military, NORAD's main purpose is to track and monitor everything that flies in and around North America at all times for early detection and defense against enemy threats. During Christmas time they monitor and track Santa's reindeer and sleigh as Santa delivers presents to kids all around the world. With an average speed of 650 miles per second (or 3,000 times the speed of sound), Santa's sleigh has unmatched speed than any man-made vehicle. This comes at a price though, as it doesn't have stealth capabilities. Since NORAD is mandated to monitor all flying objects, they established the NORAD Santa Tracker . This website streams and shows where in the world Santa Claus is during the night of Christmas Eve. 
The tradition of tracking Santa Claus began in 1955 in Colorado Springs, Colorado. A young girl accidentally called the confidential phone number of the Continental Air Defense Command (CONAD), thinking that she was calling Santa Claus from an advertisement in a town newspaper. Realizing the mistake, the commander on duty, Air Force Colonel Harry Shoup, reassured the youth that Santa would have a safe journey that Christmas Eve. Since then, NORAD continues to track and report Santa Claus' journey around the world to millions of young viewers on Christmas Eve. 
Christmas Eve is approaching us fast, and as many children excitedly await Santa Claus's visit to their homes to deliver gifts, you can watch Santa's journey around the world using the NORAD Santa Tracker!
Related Articles & Websites:
https://www.norad.mil/About-NORAD/NORAD-Tracks-Santa/
https://abc7.com/norad-santa-tracker-christmas/448262/
https://www.usatoday.com/story/news/nation/2020/11/18/norad-santa-tracker-2020-covid-wont-stop-it-call-center/6337380002/