Mechanical Dinosaur Costume Built By Student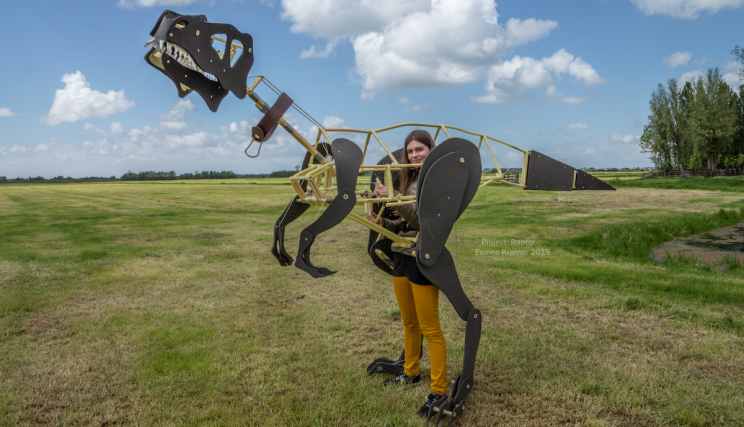 A student in Network & Systems Engineering decided to build a dinosaur. In her living room during her spare time, she came up the idea to create a dinosaur costume. In the end, a surprisingly smooth and natural moving mechanical dinosaur costume was built by the student.
First, she thought about the material she would use for the framework. She decided to use PVC pipes, as they're cheaper, light, and simple to work with. When you heat the pipes, you are able to fold them, creating a rotatable point. She used 5/8 and 3/4 inch pipes to easily fit parts together, she said. Then, she made a frame that was able to fit around her body. To move the body, she pushes or pulls the neck. According to the student, the hardest part behind building the costume was enabling for the head to move around. In order to do so, she made a steering handle with rotation points that were the same as the head. She used a brake cable to open and close the mouth of the head.
The student is still trying to improve onto her creation, but what she has now is truly impressive. This relates to engineering because she planned, designed, and stumbled upon problems while in the process but found solutions. In engineering, you have to plan, design, and you will run into issues with your product but you will have to solve them.
https://interestingengineering.com/this-engineering-student-built-a-mechanical-dinosaur-costume-in-her-spare-time
Read more about the costume above!