3D T-Rex Light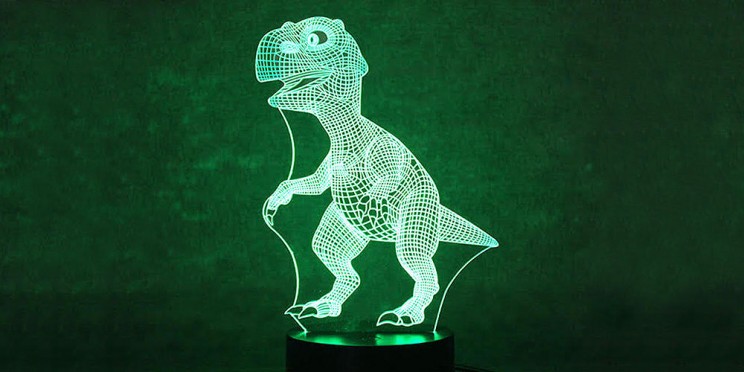 By: Estephany Espinoza-Tobar

If you know someone who likes dinosaurs and don't know what to get them this Holiday then you should get them 3D T-Rex Light.  Even if dinosaurs don't generally enjoy a reputation as being terribly friendly, but this illuminated T-Rex is thankfully a bit different. It's here to party, not kill. Fixated on a dark base with a plexiglass design, this 3D light appears as though it's perfectly floating in mid-air, and can shift seamlessly between seven interchangeable colors at your choosing. The 3D T-Rex has the perfect mix of Jurassic and Triassic ambiance to any room in the house. If you are scarred of the dark or you want simply an avid dinosaur enthusiast who wants to decorate your home with a modern-day version of the past's most notorious and mysterious animals then the 3D T-Rex Light will help you .You'll be able to keep the light running throughout the night without even needing to change bulbs for up to 10,000 hours of use. The lower voltage rating means that you won't have to worry about draining your bank account while you take in this light's subtle and colorful glows.  The entire design is also crafted from powerful ABS and acrylic materials.
https://interestingengineering.com/this-3d-t-rex-light-is-the-perfect-gift-for-the-dinosaur-lover-on-your-list
This relates to engineering because the Creator took the time to see how they wanted the 3D light to look like. This also relates to engineering because they chose which type of dinosaur they wanted ,what colors that wanted and how long the dinosaur would last and what materials they wanted the dinosaur would be made of. This also relate to engineering because they chose want animal they wanted to use.