How many Quarks are in the Universe?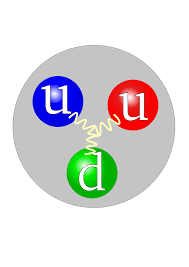 The smallest particle know to man is called a quark. The smallest part of an atom is the electron which is 1,835 times smaller than a proton. A proton is a little smaller than the atom, and the atom is 1,000 times smaller than a cell. A average human is about 100,000 times bigger than a cell. The average human compared to earth is 20,903,520 times smaller than earth. About 100 Earths can fit in the sun. 5.46747e+23 suns can fit in the universe. 2.0972099e+44 quarks are in the universe.
http://www.particleadventure.org/quarks.html
Quarks relate to engineering because engineers have to design equipment to even know what a quark is.